Kali ini, saya akan mereview sebuah brush dari myphotoshopbrushes yang patut anda coba, yakni Brush Botanical Garden. File brush sebesar 2,6 MB ini bisa anda download di link dibawah ini secara gratis tanpa bayar maupun daftar, berikut ulasan (deskripsi) dari sang pemilik brush.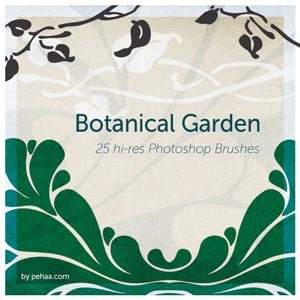 Description: A set of 25 hi-res Photoshop Brushes entitled Botanical Garden. I find it quite a good proposition for spring. Enjoy, you are free to use them for both your personal and commercial projects.

Brush yang di buat oleh Pehaa ini, terdiri dalam 25 brush dalam satu set yang dibuat pada 4 mei 2011. Berikut ini screenshoot brush yang saya posting kali ini
Download brush photoshop Botanical gardenSaya rasa, brush ini cocok bagi anda yang suka dengan desain retro.
Download Brushes Photoshop : Botanical Garden
Download brush photoshopnya di link dibawah ini